Essex Paint and Sip offers 2- 2.5 hour painting parties with light food, beer and wine. Patrons are led by local artists step -by- step as they create their own masterpiece on canvas. No experience required just bring your friends and your sense of humor. Essex Paint and Sip's historic, restored bank is the perfect setting for your next fundraiser, birthday party or social gathering. Each event can be customized to meet all of your expectations.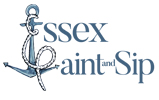 12 Main Street, Essex CT,Essex,06426
860-916-4386
Are you an Essex business Interested in becoming a member of the Essex Board of Trade?
Contact Us

Essex Board of Trade, Inc., P.O. Box 322
Essex, CT 06426 860-767-3904 or email message@experienceessex.com