Since 1949, Essex Community Fund has been fundraising and distributing donations yearly to local non-profits with programs geared at serving the needs of our residents.  ECF also works with others to create programming and solutions to challenging situations facing our residents..  Essex Community Fund is committed to making a difference in our community. We encourage you to take part in our programming, volunteering opportunities and to meet the many incredible non- profit organizations that serve Essex, Centerbrook and Ivoryton.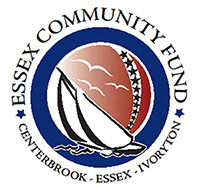 PO Box 614,Essex,6426
860-767-1163
Are you an Essex business Interested in becoming a member of the Essex Board of Trade?
Contact Us

Essex Board of Trade, Inc., P.O. Box 322
Essex, CT 06426 or email Info@EssexCT.com