Ivoryton Library Association
The Ivoryton Library was founded in 1871 and is still  housed in its original structure, built in l889. It has continued to function as a library for almost l50 years. The Ivoryton Library is a free library, open to the public, with over 12,000 books, magazines, museum passes, movies, music CDs and audio books and e-books available. A valid card from any Connecticut library can be used to check out our materials. In addition, the library offers informative, educational and entertaining programs and services free of charge for patrons.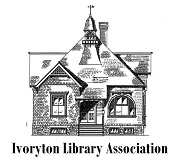 108 Main St,Essex,6442
860-767-1252
Are you an Essex business Interested in becoming a member of the Essex Board of Trade?
Contact Us

Essex Board of Trade, Inc., P.O. Box 322
Essex, CT 06426 or email Info@EssexCT.com