Flow Essex Pilates, Yoga, Barre
Located in the heart of Essex Village, CT, Flow Essex Pilates, Yoga, Barre embodies the sensation of flow in nature and design. Rooted in the aspirations of founder Maura Gray, Flow has come to life with the help of its dedicated team members who all share one vision: to create a comfortable space for people to find their own path to wellness through guided instruction by top fitness leaders on the Shoreline. Offering a variety of Classical Pilates, Barre, Yoga, and HIIT classes, Flow is the ideal location to explore your fitness interests and needs. At Flow, you will be encouraged to develop a new sense of understanding of your body, pushing yourself to become the best version of yourself and find what makes you Flow!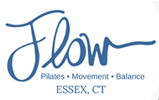 2 Nott Lane,Essex,06426
203-270-7001
Are you an Essex business Interested in becoming a member of the Essex Board of Trade?
Contact Us

Essex Board of Trade, Inc., P.O. Box 322
Essex, CT 06426 or email Info@EssexCT.com