The Griswold Inn Store – Goods & Curiosities
The Griswold Inn Store ~ Goods & Curiosities, features an eclectic mix of products inspired by the Inn and New England - from their Early American and maritime heritage to Connecticut lifestyle and entertaining today.  Items include creatively-branded 'Gris' merchandise; hand-crafted and Connecticut-made products; limited edition prints of The Griswold Inn's renowned art collection; home goods, select books, unique toys, artisan jewelry, specialty foods...traditional, whimsical, and contemporary ~ Goods & Curiosities.  The Store's displays and assorted collection of interesting goods are continually changing, promising a pleasant discovery with each visit. Located directly across the street from the Main Inn.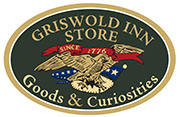 49 N Main St,Essex,6426
860.767.0210
Are you an Essex business Interested in becoming a member of the Essex Board of Trade?
Contact Us

Essex Board of Trade, Inc., P.O. Box 322
Essex, CT 06426 or email Info@EssexCT.com