The RiverLane was founded with a desire for a welcoming shop that makes every day feel like cause for celebration. With more than 50 brands and an emphasis on quality and versatility, it's our mission to be your easy-to-shop oasis in an atmosphere designed for connection. It is not just a boutique, but a destination.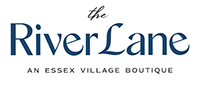 7 Main Street ,Essex,06426
860.662.4688
Are you an Essex business Interested in becoming a member of the Essex Board of Trade?
Contact Us

Essex Board of Trade, Inc., P.O. Box 322
Essex, CT 06426 or email Info@EssexCT.com