Welcome to Toys Ahoy!  The biggest little toy store in Essex, Connecticut.  Known for our broad and eclectic assortment of toys, games and books, we have something for everybody and every pocketbook.
We offer a "kid friendly" environment, and for parents and grandparents a trip down memory lane. We believe that just because it's Educational doesn't mean it can't be fun! Our staff is genuinely pleasant, knowledgeable and helpful.
Gift certificates are available and free gift wrapping.
Open 7 days a week—year round!  Closed only 3 days—Easter, Thanksgiving, and Christmas.
"Kids" of all ages welcome.  So put down the electronics, unplug, come in and visit!
Shopping at Toys Ahoy! is just plain fun.  We look forward to your visit.
Dee Ferris and Allen Divoll.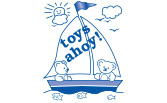 43 Main St.,Essex,6426
860-767-2067
Are you an Essex business Interested in becoming a member of the Essex Board of Trade?
Contact Us

Essex Board of Trade, Inc., P.O. Box 322
Essex, CT 06426 or email Info@EssexCT.com