Blue Hound Cookery & Taproom
Southern coastal cuisine with New Orleans flair.
The Blue Hound Cookery & Taproom brings southern inspired coastal cuisine with a touch of New Orleans to the shorline area.
They pride themselves with a dedication to fresh, made from scratch, authentic dishes created from years of travel, living and cooking in the south.
Many of their recipes have been passed down from generations of chef's who made their names mastering their craft in and around New Orleans and the gulf coast so they may offer them to you.
Enjoy!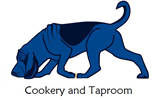 107 Main Street, Ivoryton CT,Essex,6442
860-767-0260
Are you an Essex business Interested in becoming a member of the Essex Board of Trade?
Contact Us

Essex Board of Trade, Inc., P.O. Box 322
Essex, CT 06426 or email Info@EssexCT.com